Freeriding is one of the most popular disciplines within the sport of longboarding. Freeriding is the kind of longboard riding that takes minutes to learn and a lifetime to master. We loosely define freeriding as:
 Longboard riding down a sloped or flat riding surface, with riders often including techniques such as carving (weaving the board in an "S" shape) and sliding (forcing the wheels to lose traction and slide).
Freeriding is a close cousin to downhill cruising, which involves the declined riding surface and can see riders reaching incredible speeds. It is also similar to commuter cruising, which tends to involve flatter ground and more pushing, though pushes can be optimized with the right longboard setup.
Best Freeride Longboards
Manufacturer
Model
Shop
Pros
Cons
[1] Sector 9
Lookout
(Men's)
Check Price
Stable platform for beginners
ABEC-5 bearings
[2] Santa Cruz
Impact
Check Price
Affordable price, sturdy design, ABEC 9 bearings, Good starter board
Recognizable look, no flex for advanced riders
[3] Landyachtz
Wolf Shark (Pro)
Check Price
Excellent hardware, modern deck engineering
Higher price due to professional grade setup
[4] Sector 9
Rocker
Check Price
Short and wide; Good deck design for aggressive carving
Deck design might be too much leverage for new riders
[5] Volador
Freeride/Cruiser (Sphinx)
Check Price
Large deck can double as a dance board
Deck's size can be a limiting factor in other types of riding
[6] Minority
Downhill Cruiser
Check Price
Drop-deck makes downhill cruising stable 
Drop-deck makes hardcore carving difficult
[7] Playshion 
Freestyle Cruiser
Check Price
Affordable entry-level freeride/freestyle
Not the best for carving, trucks will need upgrading
[8] Magneto 
Hana Collection
Check Price
Beautiful bamboo deck, Paris trucks
Deep flex decks may not be ideal for larger riders
[9] Loaded Boards
Vanguard
Check Price
A lightweight deck and good hardware make this perfect for commuters and racers
The Bamboo and Fiberglass construction may trade durability for lighter weight and speed
[10] Loaded Boards
Dervish Sama
Check Price
Lightweight build designed for aggressive carving and pumping
The light weight may require greater skill to force a slide
[11] Jucker Hawaii
New Hoku
Check Price
Beautiful Hawaiian Theme, clean deck design, affordable price
Stock bearings need upgrading
There can be some confusion between freeriding and freestyling. Here is the easiest way to remember the difference:
Freeriding is typically done downhill, with emphasis on speed and aggressive carving and sliding. Switching stance (regular to goofy) back and forth via slides is a popular technique.
Freestyling can feature sliding and carving as well, but are usually performed on flatter ground. This means more pushing to build speed, as well as greater opportunity for tricks.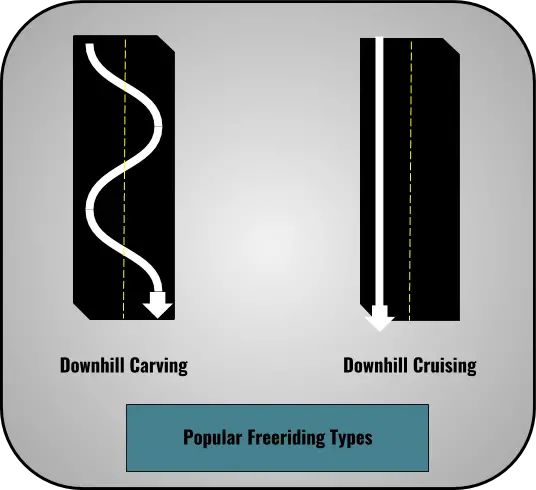 The boards in the reference below have been chosen mainly due to their suitability for freeriding. That being said, we have tried to include examples of freeride longboards that can accommodate other riding types. We've made sure to mention whether the given longboard is better suited for cruising or carving, as each could be called "freeriding" interchangeably by marketers. We've also included longboards that will appeal to both beginners and experts.
Do yourself a huge favor and look at each selection – even if you find a favorite early in the list – as there are a variety of great options. 
These are all awesome longboards; each for its own reasons. You definitely want your board to be a good fit – a fit for your personality and your riding style; a board that will grow to become an extension of you.
---
[1] Sector 9 Mens Lookout
Features:
Board comes fitted with 10.0″ Gullwing Charger trucks in a drop-through mount, 72mm 78A offset TS wheels, ABEC 5 PDP bearings, 1.125″ flush mount steel bolts, and comes with invisible grip tape to showcase the beautiful art.
This longboard is manufactured using 5-ply, vertically laminated bamboo, in a "taco" molding process. This gives the board its concave shape.
Overall Dimensions: 41.125″ length x 9.625″ width x 31.0″ wheel-base
The Sector 9 Lookout is the first longboard we're looking at, mostly because it's a great setup for the beginning-to-intermediate freerider. It is constructed with a 5-ply taco molding process, which results in a concave or cambered deck. Professional riders prefer this deck design as it offers much more leverage and control when riding aggressively. As such, it might present more of a learning curve than flatter decks, but one worth conquering.
The taco mold design means a concave deck. This translates into more precise control for the rider as well as less flex in the deck. Consumer reviews report zero speed wobble, making this a sound option for beginners interested in downhill speed riding. The ABEC 5 bearings will need eventual upgrade, of course, but will work well enough in the short-term.
---
[2] Santa Cruz Lion God Rasta
Features:
Overall Dimensions: 10″ x 40″
Constructed form 8 ply Canadian Maple
Comes complete with Santa Cruz trucks and Santa Cruz wheels
Featuring ABEC-9 bearings – the industry best!
Super affordable price for beginning freeriders!
The Santa Cruz longboards Lion God Rasta is another great pick for beginners – particularly those over 200 lbs. This is an incredibly stout and sturdy longboard manufactured from 8-ply Canadian Maple hardwood. It comes factory-fitted with ABEC 9 bearings, which are the best industrial stock bearings available.
Oh, and it typically retails for a third of the price of the big longboard brands. 
The graphic is aesthetically pleasing, if not easily recognizable. Serious longboarders are very likely to ride a Lion God Rasta as their daily beater, and keep a more expensive piece for special outings. The drop-through mounting means improved stability and maneuvering, while the sturdy deck translates into durability with low flex.
---
[3] Landyachtz Wolf Shark Complete Longboard (Pro Freeride Build)
Features:
A 40" drop deck design offers a low center of gravity; great for downhill speed!
Deck's construction is 8-ply cold-pressed "hardrock" maple, making this a solid and durable deck. 
A generous 37-Inch wheelbase and roomy 10" wide deck allow for even greater stability, making this a perfect fit for beginners and experts alike.
Fitted with aluminum 7" Reverse Kingpin trucks adjustable to 50° or 45°.
Comes with 70x51mm 78A PU wheels fitted, with ABEC-9 precision bearings (the best of the industrial stock grade bearings) creating opportunities to explore freeriding, cruising, and commuting.
Deck art is designed by European and Russian talent, making it stand out against American inspired counterparts. Graphics range from vintage/classic to avant-garde.
Landyachtz is a premiere longboard manufacturer, and the Wolf Shark is a good example of why. 
It starts with their deck design that employs "micro-drops"  – basically a symmetrically concave deck with just the right amount of flex. The deck is built using a Maple/Fiberglass composite, bringing the industry's signature materials for durability and lightweight into play. Trucks are Caliber with Blood Orange bushings; this is a precision-machined piece of hardware that you will not need to upgrade. 
In addition, the deck itself features a unique shape that stands out. The crescents cut into either end are not something commonly seen in longboards, as usually vendors try to offer some amount of tail kick (even if minimal) to make the board more "well-rounded". This only goes to show that the Wolf Shark is built for one thing – downhill speed. Anything that does not serve that purpose has been stricken from the design, and the result is a professional-grade longboard that thrives at what it was born to do.
---
[4] Sector 9 Rocker Complete
Features:
Deck construction is 3 Ply Maple and 4 Ply Triaxial Fiberglass Composite 
1/2″ Continuous Rocker 
Recessed Truck Mounts 
Full-Dipped Colors – Unparalleled Vibrance
Sector 9 is a well-known brand in longboards, and the reputation is justified. They consistently deliver a quality product in a wide variety of styles and options. The Rocker is a touch shorter than some of the other longboards on the list, coming in at 35.5". It is also a touch wider, however, and at 9.5" in a top-mount deck, there is some potential here for dancing in addition to freeriding.
This would depend on the rider having a light touch, as the deck is designed with a slight concave. The increased leverage could prove challenging for a rider more accustomed to flat decks. The Rocker is built for speed and light weight, as evidenced by its four fiberglass layers. There are also three hardwood Maple layers woven in for strength – the combination allowing for a decent amount of flex. 
The Rocker is a solid downhill freeride longboard, but the Butterball Slide Formula wheels really let it shine in aggressive carving and sliding. The Gullwing Charger II trucks are up to the task with an Aluminum/Chromoly alloy that has set the bar in skate trucks. Charger II's come with ABEC 7 bearings, providing a balance between speed and durability. Rest assured, there will be no immediate need for upgrades with the Sector 9 Rocker longboard.
---
[5] VOLADOR 42inch Freeride Longboard Complete
Features:
A generous 42" camber deck with drop-through mounting; deck offers optimal flex and shock absorption.
The fitted 70x51mm 78A PU wheels are mounted on ABEC-9 precision bearings, meaning you are guaranteed a smooth, slick ride.
The 7" reverse kingpin trucks are easily adjustable to either 50° for carving agility or 45° for maximum speed.
Constructed from 8-ply all-natural hardrock Maple and methanol-free epoxy resins, this is one of the most durable  and sustainable boards on the market.
This board is fairly massive, at 42" x 9". The camber concave deck design makes it a comfortable cruiser and freerider, and the ABEC 9 bearings ensure you can go as fast as you want to (maybe faster, at times!). 
Full-Maple construction means a rigid board with little to no flex. Expect this to manifest in reduced speed wobbling, greater stability at higher speeds, and lightning-fast response – at the cost of slightly higher weight. Other boards with fiberglass or bamboo layers will be lighter, naturally.
The Volador is well-suited to be a starter board, as most freeriding setups are. If you have large feet or a bigger frame, this might be a good board to look into. 
---
[6] MINORITY Downhill Maple Longboard 40-inch Drop Deck
Features:
Constructed from 8-ply cold-pressed Maple hardwood for maximum durability.
Drop-deck design is well-suited for downhill cruising and freeriding.
With its 37" wheelbase and spacious 10" wide deck, you are assured a stable downhill platform.
The aluminum 7" reverse kingpin trucks are adjustable as 50° or 45°, allowing you to set up for carving or cruising.
Durable 70x51mm 78A PU wheels work in conjunction with ABEC-9 precision bearings, letting you enjoy an unsurpassed smooth ride with maximum push efficiency.
This longboard offering from Minority is a great pick for longboarders just getting started on their journey. The drop deck and generous width offer incredible stability and allow for very deep carves. Tighter turning makes this an impressive commuter board as well, though the deep flex of this low-sitting board is prone to scraping in deep carves. Consider adding inexpensive plastic risers when setting up for aggressive carving.
While the bearings are good to go, the trucks could stand an upgrade. The factory fitting is adequate for the beginner, but too much hardware abuse is going to take a quick toll. As such, you're probably going to want those upgrades before you engage in any drop-deck freestyle, or serious downhill runs over less than perfect roads. 
---
[7] Playshion Drop Through Freestyle Longboard Skateboard Cruiser
Features:
Complete longboard also comes with a multi-function skate tool and a free sticker!
The industry standard for durability 8-ply Maple deck can accommodate larger riders.
Soft 70x50mm PU Wheels combined with ABEC-9 Bearings for enjoyable freeriding.
This longboard setup is ideal for longboarders that want a capable freeriding board that can handle a bit of freestyle trickery. The durable Maple hardwood and adequate kicktails allow the rider to throw themselves (and their boards) around quite a bit without too much damage. Quality bearings ensure optimal push efficiency and smooth cruising.
Wheel bite will, however, make you likely to avoid aggressive carving – a problem consistent across many kicktail/freestyle deck designs. Downhill cruising will be easy to achieve with the ABEC-9 bearings, just ensure you tighten up the longboard's trucks that likely come fitted more loosely for freestyle riding. The drop through mounting will help with stability and the soft wheels will ensure a smooth ride. 
If you're keeping your eye out for an affordable, entry-level longboard that can double as a cruiser or a freestyler – you've found a good one. 
---
[8] Hana Longboard Collection Bamboo 42 inch Maple Core Longboard
Features:
Super-long 42" longboard with beach inspired graphics laser-etched into the bamboo
Deck's cutout design helps eliminate wheel bite during aggressive carving sessions.
This is a high-flex deck with natural bamboo laminated over a Maple hardwood core – strength and beauty.
Factory-fitted with a drop through design with high-angle Paris trucks and 70mm wheels.
The deck surface comes finished with a grit texture that provides grip for your feet and allows the longboard's natural beauty to come through. (No Grip Tape Needed!)
The very first thing you notice when you look at a Magneto Hana longboard is the beautiful bamboo. This board captures the spirit of Hawaii, the essence of the beach, and the vibe of longboarding's subcultural roots. The natural shine of the wood and the slim elegance of this design are enough to justify its value, without considering anything else. 
Throw in the high-quality Paris trucks, the lack of grip to start peeling, the laser-etched designs that will never fade or discolor – and this longboard is really taking the standard up a notch.
The Hana Collection offers several different designs for cruising, dancing, freestyle, etc., but every selection is first and foremost an accomplished freeriding board. These are the longboards that look right at home rolling down the beach boardwalk, and stand out remarkably in urban settings. If you want the surfer vibe and a top quality longboard, the Magneto Hana is worth a closer look. 
---
[9] Loaded Boards Vanguard Bamboo Complete Longboard
Features:
The vanguard is an excellent carver, with deep flex allowing for efficient pumping and responsive agility. Also works well as a commuter longboard.
The tapered shape creates optimal wheel clearance for deep carving and tight turning. Cutouts serve to reduce stiffness between your individual feet, and provide better feedback within the radius.
The deck's slight concave provides greater edge control and leverage, while the top mount fitting provides for high-energy carving scenarios..
Bamboo and fiberglass are laminated to provide the kind of responsive flex that hardcore carvers and pumpers crave. Decks are available in two sizes and five flex ratings to customize the ride to your stance, weight, and style.
Loaded Boards come standard with Paris 180mm, 50° V2 longboard trucks, meaning smooth turning and no need to upgrade any time soon.
Orangatang 75mm, 83a Durian wheels are a freerider favorite. These quality wheels offer grip and sliding performance that is hard to reproduce. Also fitted with Loaded Jehu V2 bearings.
Experienced longboarders that want a pro-grade freeriding setup that can handle impromptu intensity need look no further than the Loaded Vanguard. Loaded Boards is an industry leader that has as many fans of the company as it does of its products. 
The Vanguard featured comes out-of-the-box ready to ride hard. With its elegantly formed cutout curvature and factory standard ⅛" risers, this board is ready to carve the moment you stand on it. The beautiful bamboo and fiberglass composite deck is ultra-lightweight, adding to the commuter value for anyone looking at carrying their ride wherever they go.
---
[10] Loaded Boards Dervish Sama Bamboo Complete Longboard
Features:
Bamboo and fiberglass are laminated to provide the kind of responsive flex that hardcore carvers and pumpers crave. Decks are available in two sizes and five flex ratings to customize the ride to your stance, weight, and style.
Loaded Boards come standard with Paris 180mm, 50° V2 longboard trucks, meaning smooth turning and no need to upgrade any time soon.
Orangatang 75mm, 83a Durian wheels are a freerider favorite. These quality wheels offer grip and sliding performance that is hard to reproduce. Also fitted with Loaded Jehu V2 bearings.
The Dervish Sama is a performance longboard built for freeriding and commuting. Simply put- the Dervish Sama is one of the best Loaded Longboards you can buy. Twin symmetrically-flared tailkicks provide options for freestyling, while the roomy deck could entertain smaller dancers. Loaded Boards offers multiple flex options for this board, meaning you can choose the level of flex in the deck to suit your riding style.
All Loaded Boards come with Paris trucks and Orangatang wheels, as well as top-quality bearings. You won't need to replace any hardware on this longboard, unless you are a seasoned rider that's looking to fine-tune your setup with custom hardware. If that's you, you're going to upgrade any board you get, so be sure to keep reading for our Best Barebones Deck review.
This board is absolutely fine for a beginner; in fact they will grow into it nicely. It truly is a pro-level board, however, and seasoned riders will be able to truly appreciate the attention-to-detail in the design and craftsmanship.
---
[11] JUCKER HAWAII Original Longboard – Enjoy Your Ride
Features:
The New Hoku's shape and flex makes the Hawai'ian Star a perfect first longboard.
The kicktail on either end allows for freestyle tricking. 
The drop through truck mounts provide amazing stability, making this a great all-purpose board.
The Fiberglass/Bamboo laminate allows for an incredibly lightweight longboard without impacting performance or durability.
We initially noticed the Jucker Hawaii New Hoku for it's remarkable beauty. It's minimalist design captures the essence of the Hawaiian longboarding spirit and invites the eye to admire its form. This is definitely a longboard you are proud to carry and ride.
This is, perhaps, the quintessential freeriding longboard. The Hawaiian inspired look and feel bring to mind the idea of cruising down an ancient volcanic hill; the mountains to our back and the beach waiting patiently below.If you are as in love with this design as we are, check out their Makahuna pintail longboard as well.
This is the ideal first board, but is one just as likely to be carried by a seasoned longboarder as well. The wheel/truck combo offers a smooth and quiet ride, though honestly there are mixed reviews on the wheels and bearings. Some people love the wheels, and others hate them – this may be the case with almost any stock wheel, however. The bearings are ABEC 7's, so middle-of-the-road; if you are more than a casual rider you may consider an upgrade in the near future.
---
*Bonus* – Best Freeride Longboard Deck (Barebones-no trucks or wheels included)
After you've spent a little time on your board, you'll have a feel for how it responds to you (and your riding style). 
Once you've reached this point, consider selecting your own hardware. It's the best way to push your board to the next level and get the most out of it. Whether you need to smooth out your ride or coax a little more speed – customized longboard hardware can get you there.

For a little help deciding on hardware, check out our articles on trucks and wheels
Rayne Carbon Deelite Fortune Longboard Deck – Full Send
The deck design is by world renowned racer, Patrick Switzer. 
 If you're looking to race, this is the downhill board you need. Period. 
The Fortune is already incredibly lightweight with its "fat-bottom" construction. This process features a thick center and thinned out edges to remove unnecessary weight; also keeping it speed stiff in the center to eliminate wobbling. 
Rayne's design engineers took this ridiculously light construction (compared to any other board on the market) and proceeded to make it even lighter with the "Dee-Lite" construction process. Dee-lite removes even more unwanted wood and replaces it with foam for an extra quick accelerating ride. 
The Fortune's deck design features unique 4-D cups and a radial concave to "lock" your feet in for racing – and still keep them comfortable while freeriding. 
You thought that was it? Rayne went even further with micro-spoon tail and nose kicks for leverage and weight distribution.
This is a signature pro-series deck designed by Patrick Switzer.
Seriously, we could stop there. 
Why wouldn't you want the brainchild of one of the greatest athletes to grace the sport of downhill longboarding? Working with Rayne's professional team of designers, Switzer quietly developed a longboard racing innovation. The Fortune's already unique manufacturing process combined with a completely different method of reducing deck weight creates a no-frills masterpiece.
If you're a veteran downhill racer that already knows the hardware setup you want, then straight up – look at this deck. There's not much else out there like this.
---
FAQ
What is a "freeride" longboard?
A freeride longboard is one set up to engage in either cruising or carving, generally speaking. Technically, downhill racing, sliding, pumping, carving, commuting, cruising, dancing, and even freestyle tricking can all be considered "sub-disciplines" of freeriding. These specialized styles of riding are more typically referred to by their own name, however.
If you're not sure about all that other stuff and you just heard freeriding was fun – you heard right! We try to break it down here, but there's no reason to get hung up on semantics. Getting on a longboard and going for a ride has always been the best place to start.
---
So, are a freeride and a cruiser the same?
Technically speaking, a cruiser is a type of freeride board; but a freerider is not necessarily a cruiser. Boards labeled as cruiser, freerider, carver, downhill, or commuter are all going to be very similar in design and function. The biggest differences will come from factors such as drop-through vs. top mounting and whether risers are installed between the deck and the trucks. Deck length and width can also play a limiting factor in exploring some specialized styles of freeriding.
---
Carver vs. Cruiser
Cruiser – Cruisers pretty much look the way you expect a longboard to look. Pintail cruisers look like a surfboard on wheels, while freestyle cruisers are easy to spot with their pronounced tail kick cutouts. Most freestyle cruisers will feature a drop-through slot, while pintails, dance boards, and the like will feature top mounting most often.
Boards that come fitted with trucks at 45° will be set up for cruising, as this truck setup allows for greater stability at downhill speeds as well as more push efficiency. Drop-decks and drop-through decks will lower your center of gravity, providing more stability and less likelihood of wobbling at high speeds.
Carver – Carving boards can be spotted by their side-cutouts, concave decks, and possibly by risers between the trucks and the deck. Carving boards can come in drop-through mounting for extra stability, but generally you want to be higher to eliminate wheel bite. Look for trucks that are 50° or reversible to 50°. 
Wheel choice is going to be important, and trial-and-error may serve you better than research. Gummy wheels will provide more traction and can provide smoother rides on rougher surfaces, but may not break loose and slide like you want.Learn to fine tune your truck tension and your wheel choice to match your weight, deck flex, and riding style.
---
What are the best drop-down longboards for beginners?
Picking your first longboard is a big deal. You want a board that accommodates your style of riding and has a design that fits your personality. The preceding product reviews are all examples of longboards so great or unique that they are the perfect choice for your first board! 
The Jucker Hawaii, Santa Cruz, and Playshion boards from our list are all excellent starter boards.
---
Are drop-down longboards good for cruising?
Generally speaking, yes, but the trucks, bearings, and wheels you select can make all the difference in the world. You see, along with all the stability that a drop deck longboard can bring, it also heightens your sensitivity to the riding surface. 
However, drop down longboards are often the choice for cruising and carving, due to their greater stability and lower center of gravity. Carving is another type of riding that is popular with drop decks, as the lowered deck contour gives you more leverage and greater control in deep carves. Just be sure to carefully consider your board's flex.
---
Is a freeride longboard a good choice for beginners?
Absolutely! 
The commuting and cruising styles in particular are well-suited longboards for beginners. Once you've gotten the hang of picking up speed, steering the board, and most importantly – stopping the longboard; then explore steeper hills and try some super-tight carves. 
If going fast isn't a long-term goal, and you're content cruising indefinitely – so be it! Ride the way you ride, end of conversation. If you're considering looking into longboard dancing, make sure you get a board wide and flat enough for you. (Top mount is also probably a good idea.) If you're thinking of pursuing a little longboard freestyle, pay close attention to the tailkicks to ensure they will accommodate your goals. 
---
Can I dance on a freeride longboard?
Honestly, that would depend largely on your skill level, but usually, longboard dancers go with a specially designed dance deck. Remember that freeride decks can come in a variety of styles – therefore one freeride deck might work great and another by abysmal. Specifically, drop-through slotted decks present a raised lip on the truck that could present challenges to beginner dancers. Dance boards are also usually at least an inch wider than other longboard styles, so you really want to choose a board at least 9" wide and trucks with an extended wheelbase.

A better choice is the crowd favorite Loaded Boards Bhangra, featuring:
A high-performance longboard constructed from a bio-epoxy/basalt composite designed for greater strength and lighter weight – and eco-friendly!
A damp flex deck that can easily accommodate heavier riders while providing a generous platform for longboard dancers.
A deck formed slightly concave, to increase tactile feedback and response when used for freestyle tricks and aggressive riding.
***Loaded Boards complete longboards all come standard with Paris trucks and Orangatang wheels, as these companies have a long-standing relationship***
A similar board with growing appeal is Loaded's newer dance longboard, the Tarab. The most recognizable differences are that the Tarab is slightly shorter and lighter than its predecessor.
If you really want a freerider to dance with, look up above at the Minority. Its drop is slight and it boasts a 10" wide top mount platform.
 If you're looking for a more entry-level kind of dance longboard, check out the Volador Spring. They have fresh designs ranging from vintage to avant garde, a large dancing platform, and an incredibly affordable price!
---
That covers the ins-and-outs of freeriding longboards. While some people use freeride and freestyle interchangeably, there is a technical difference there worth understanding. We talked about some of the best longboards available on the market right now, as well as a few options priced to make it easy to try out this attractive sport.
Freeriding is integral to the longboarding community. If you're unsure about what to try or how to go about it, either check out some of our other articles or reach out to your local longboarding community. They may even be able to turn you on to some amazing rides.
As always, wear your safety gear, pay attention to your surroundings, stay safe, and have fun! 
Thanks for reading!