Whether you're looking to immerse yourself in a meditative downhill cruise or work out some aggression carving up the city streets, the best drop deck longboards can be the way to go.
Drop deck longboards are a popular choice for all experience levels due to their stability. 
However, with so many good drop deck longboard choices in front of you, it can be hard to decide which one to pick. We did the work for you – keep reading to see our reviews for the best drop deck longboards!
Table of Contents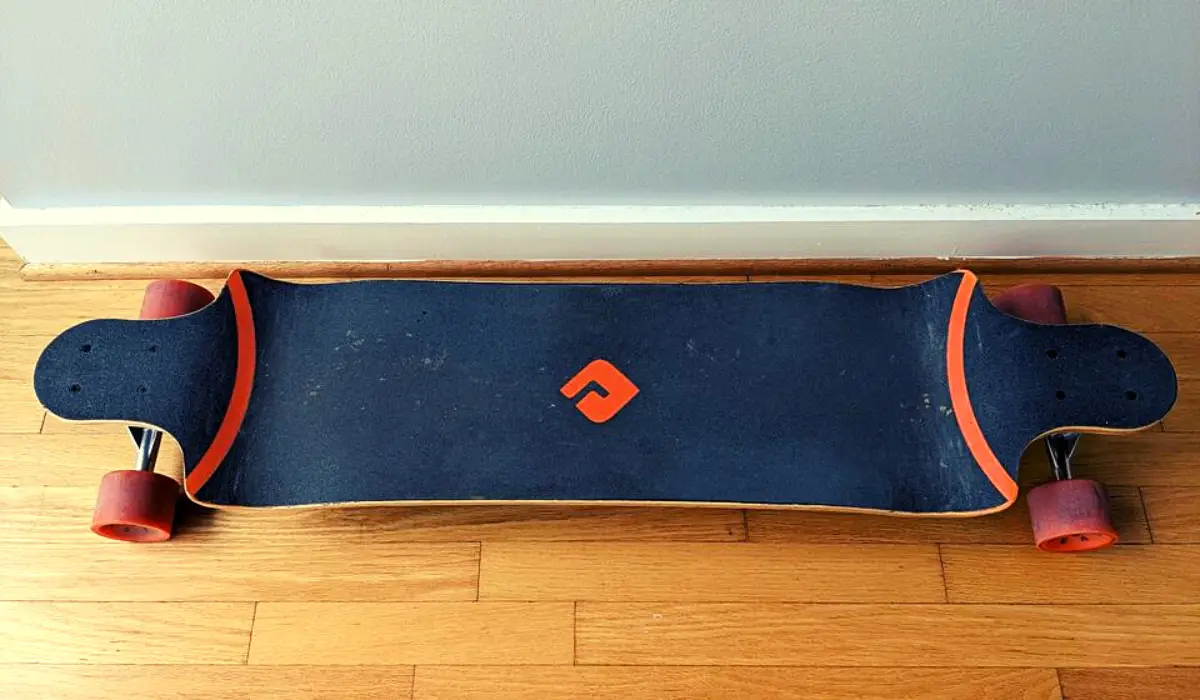 Best Drop Deck Longboards
Features:
Employs an open-wheel design to reduce the potential for wheel bite at high speeds.
Constructed from 7-ply Maple deck – super durable & retains the organic grain's beauty.
Precision ABEC 7 bearings are mid-grade industrial bearings; balancing affordability and performance
Reverse Kingpin truck mounting for further increased stability & good response when carving
7" anodized black aluminum trucks
This drop deck offering from Quest Skateboards is indeed a work of art. While admittedly the hardware is nothing to be impressed with – the deck alone deserves to be framed and hung on a wall. 
Quest has taken Pacific Northwest-inspired art with a distinct Native American feel to another level. First, they hand-carved their artwork and then translated it into a vector drawing. Now their handcrafted image is laser cut into their decks, meaning it will never fade. Any scratches, scrapes, or stains are only going to serve to accentuate this remarkable deck.
Performance-wise, this deck is going to be a little heavier than most competitors owing to its solid maple construction. It features minimal kicktails, opening the door to freestyling and freeriding. Generally speaking, however, this board is better suited as a cruiser. Its weight and durability make it one of the best drop deck longboards for downhills and hardcore carving sessions.
---
Features:
Drop-deck design ensures maximum stability, making it a great option for downhill carving
Also a good commuter board, due to being easy to push
Unique deck shape brings 9.6-inches of leverage into every turn while reducing wheel bite
Full-maple laminated deck with reverse King Pin (RKP) longboard trucks (245-millimeter axles)
Atom is one of the best longboard brands produced by Colorado's own, MBS Longboards. In turn, we can confidently say the Atom Drop Deck is one of the best drop deck longboards you can get your hands on. MBS started out in 1993 when longboarding started becoming popular when they invented a line of all-terrain "mountain boards". Since then, they have remained at the forefront of the industry by employing the same innovation that got them started.
The Atom Drop-Deck longboard is well-suited for beginners, with an affordable price-of-entry and a quality complete longboard setup. The Reverse King-Pin trucks have the kingpin situated through the hangar; an opposite setup from a regular skateboard. This provides extra stability in the trucks, as they sit lower this way.
The Area 51 wheels are considered to be a "gummy" formula; they provide more traction but won't get the top speed of a firmer longboard wheel. The longboard's bearings and bushings are all stock stuff, however, so you may find yourself looking at trucks at some point.
---
3. MINORITY Downhill Maple Longboard 40-inch Drop Deck
Features:
A 40" drop deck design offers a low center of gravity; great for downhill speed!
The deck's construction is 8-ply cold-pressed "hardrock" maple, making this a solid and durable deck. 
A generous 37-Inch wheelbase and roomy 10" wide deck allow for even greater stability, making this a perfect fit for beginners and experts alike.
Fitted with aluminum 7" Reverse Kingpin trucks adjustable to 50° or 45°.
Comes with 70x51mm 78A PU wheels fitted, with ABEC-9 precision bearings (the best of the industrial stock grade bearings) creating opportunities to explore freeriding, cruising, and commuting.
Deck art is designed by European and Russian talent, making it stand out against American-inspired counterparts. Graphics range from vintage/classic to avant-garde.
Number 3 on our unranked list for the best drop deck longboards, Minority reports. See what I did there? Minority longboards are a supplier centered on providing an environmentally sustainable longboard – or as close to it as possible. As such, their boards are pressed using methanol-free epoxies and resins, and constructed from sustainably forested woods. 
Another striking feature of Minority boards is their artwork. They take great pride in the murals featured on their longboard decks and cater to many different cultural tastes. Additionally, these beautiful works of art are on the bottom of the deck – meaning they should last forever. Long after the hardware (and your knees) have reached their shelf-life, you can hang this board in a prominent place. How's that for a conversation starter?
---
Features:
Full Dimensions: 39" length x 9.5" width
Laminated Bamboo/Canadian Maple featuring durable heat-transferred graphics and invisible grip tape (to allow the board's natural beauty to shine through).
180 mm (7") polished aluminum trucks and ultra-high-rebound bushings
Comes fitted with 70 mm x 50 mm high-rebound urethane wheels; Premium grade Abec 9 Hellion 2 bearings with built-in spacers.
The White Wave Warrior is a slightly more aggressive version of its sister product – the Cruiser. The Warrior is a beautiful board, crafted from the popular lightweight bamboo and the incredibly durable Canadian maple. In their design, they chose to simply let the natural elegance of this combination shine, as is evidenced by minimal graphics and the use of clear grip tape.
This board is designed for hardcore carving and aggressive pushing, so it's likely to take whatever you throw at it. It comes with good hardware and an incredibly tough deck. One interesting thing we've noticed – this board is becoming very popular with the DIY electric longboard crowd. The quality of this deck and hardware at this low price have made it stand out to those looking for the best board to start that project with.
---
5. Yocaher Professional Speed Drop Down Complete Longboard Skateboard
Features:
Enough board for professionals at: 41.25″ x 9″ and boasting a wheelbase of 33″
Complete Longboard includes: "Q-Ball" 70x52mm Wheels 78A Hardness, HD7 Heavy Duty Trucks, 180mm Hanger, Alum. Alloy "Abec 7" Chrome Bearings, "Black Widow" Premium Grade 80A Black Grip tape
Constructed from premium-grade 9-Ply Canadian Maple
Yocaher Skateboards began as a California skate shop in 1997. Almost immediately they established themselves as a premium board manufacturer and have not let up since. Their reputation centers on providing top-quality products at affordable prices. 
The "Professional Speed" longboard is a prime example of what Yocaher delivers on the regular. A board with name-brand hardware that a professional rider can appreciate – at a price that doesn't scare beginners away from trying it out. 
---
6. Z-Flex Skateboards Powder Line Drop Through Complete Longboard – 9″ x 41.25″
Features:
Deck Dimesnions: 9″ x 41.25″
Part of Z-Flex's Powder Line series; built for speed
Minimalist black design stands out in a subtle way – the "sleeper" of longboards
Z-Flex is a Santa Monica, CA company with deep skateboarding roots that go all the way back to 1975. They boast an impressive lineup of professional skaters in their design team, meaning their boards are built to be ridden hard. 
The Powder Line drop through is meant to be a downhill board, designed for top speed. The drop-through truck mounting brings the extra stability you want in those high-speed situations. The sturdy, no-flex deck keeps you feeling planted no matter how fast you're going. The flared Kicktails allow for impressive freestyle tricking. 
This is a solid, well-rounded longboard suitable for beginners and for more experienced longboarders. Z-Flex longboard decks are constructed from 9-ply Canadian Maple – an industry standard for durability in deck construction. Pure maple decks are the most durable of the lot.
---
7. Loaded Boards Icarus Bamboo Longboard Skateboard Complete
Features:
The Loaded Icarus is a high-performance longboard aimed at the professional rider. It is designed for use in carving, pumping, and commuting riding styles mainly.
Drop-through truck mounting brings greater stability and easier pushing. The board features a cambered profile and a concave with variable edging to create a more intuitive riding experience. 
Ample clearance for big wheel upgrades and as ordered allows for deep carving. Minimally designed kicktails allow for higher maneuverability in urban settings, while still allowing for freestyle tricking.
Composite deck construction is snowboard-inspired, combining vertically laminated bamboo and fiberglass. This allows for high strength with just the right amount of flex while keeping weight to a minimum. A bottom cork bottom layer dampens vibrations.
Paris 180mm, 50° matte black longboard trucks come standard on Loaded Boards.
You get to choose between the Orangatang 80mm Kegels (smoother ride, top speed, and grip) or the Orangatang 75mm Durians for a balance of grip and slide (a better choice for freestyle riding)
Loaded Jehu V2 bearings ride smoother and last longer than cheaper substitutes
Loaded Boards, founded in 2000, has been manufacturing progressive, high-quality longboards that have kept the industry on its toes. Their high-quality longboard designs come standard with name-brand hardware – making them a popular favorite with seasoned riders.
While the Loaded Bhangra is considered the dance longboard, the Loaded Icarus is the quintessential carving longboard. This is the longboard of choice for the urban commuter that is looking for speed and stability, with an emphasis on being able to make quick, tight turns.

Loaded Boards makes some of the finest longboards available, and the Icarus is no exception. Whether you're looking for a first board that you can grow into or you've already been riding and you're looking to upgrade, you're going to want to take a long look at the Loaded Icarus.
---
8. MBS All-Terrain Longboard
Features:
The 100mm x 65mm all-terrain wheels are molded with 78A super-high-rebound urethane for the optimal balance between speed and traction.
190mm Navigator Drones trucks allow for more precise turning and aggressive carving.
A sturdy maple-lam drop deck keeps your center of gravity low for pushing and off-roading.
Rubber-shielded ABEC 9 bearings to protect from moisture and sediment.
MBS Longboards started in the mountains of Colorado, way back in 1993. They saw the urban longboarding scene blowing up and the feeling of being left out did not sit well. They innovated a new kind of longboard – one that could work as well in the mountains as it could in the city street.
Their boards are in a category of their own, but they still feature a drop deck design. The wheels have knobs on them for increased traction in off-road environments, but work quite well on concrete and asphalt, too.
This board is obviously the one for you if you're looking to downhill beside the road – but it works equally well as a distance cruiser or commuter. Cracks in the sidewalk disappear and even small potholes and the like pose no challenge for this setup.
---
9. Rayne Longboards Demonseed Longboard Complete
Features:
This board's setup makes it easy for beginners to freeride and cruise.
Rayne is dedicated to using sustainable and eco-friendly manufacturing processes. They regularly use reclaimed, recycled, or upcycled materials whenever possible.
Rayne is a globally recognized, premium-brand, supplier of longboards. They deliver a top shelf product every time.
Rayne Longboards have a very straightforward approach to making longboards. They want to make the best products and stay environmentally safe while doing it. They believe in the power of reputation and work hard to keep theirs pristine.
The Demonseed is a pro-level board, coming equipped with premium-grade trucks and wheels out of the box. It's a board built for cruising, carving, and freeriding, with pronounced kicktails allowing for freestyle tricking. This longboard is one of the elites – other longboarders are going to recognize it when they see you on it.
---
10. Bustin Boards Sportster (E) Core Longboard Complete
Features:
Equipped with Caliber 50˚ Matte Black Trucks, 70mm Premier Formula Wheels, and Bustin Abec-9 Speed Bearings – no further upgrading necessary
Bustin Boards works directly with pro riders throughout the design and testing.
East Coast longboarding culture represented – the Sportster is designed for weaving through the tight-knit pedestrian traffic of NYC. Boasting a 29″+ wheelbase and an agile 35″ deck, Bustin has made the Porsche of longboards.
NYC-based Bustin Boards has unleashed a beast in the Sportster. This longboard comes fully equipped with quality hardware, so no need to plan for an immediate upgrade. Designed to be quick and nimble, the most notable feature of the deck is its contour. Its wavy shape compliments the drop deck design and provides for an intuitive connection between your feet and the longboard.
Technically a double drop, the Sportster retains all of the stability you expect out of the drop mount setup. The wheels allow for ample sliding, though the grip holds until you push it. The deck itself is constructed from tried-and-true Canadian Maple, laminated with a proprietary epoxy blend (formulated by Bustin). This is where the (E) designator comes from, as this model is constructed using this new, lightweight epoxy resin.
---
11. JUCKER HAWAII Original Longboard Skateboards – Enjoy Your Ride
Features:
The New Hoku's shape and flex make the Hawai'ian Star a perfect first longboard.
The kicktail on either end allows for freestyle tricking. 
The drop through truck mounts provides amazing stability, making this a great all-purpose board.
The Fiberglass/Bamboo laminate allows for an incredibly lightweight longboard without impacting performance or durability.
We selected the Jucker Hawaii New Hoku first for its remarkable beauty. Its minimalist design captures the essence of the Hawaiian longboarding spirit. This is definitely a longboard you are proud to carry and ride.
While not technically a drop deck, the drop through mounting does offer increased stability, making this a good choice for new riders. The shape and design, meanwhile, only add to the value by allowing the rider to explore different longboarding styles of riding.
---
12. DB Longboards Contra Drop Deck Maple Longboard Complete
Features:
The Contra deck is a custom blend of tub & W concave, creating a robust platform that doesn't sacrifice comfort. The exaggerated drop suits the high speeds of downhill and provides a stable carriage for distance cruising.
Comes pre-equipped with Atlas 180mm Ultralight trucks, Cloud Ride 69mm Cruiser Wheels, and Lightning Bearings; this means you can forget about needing upgrades!
DB Longboards is a company dedicated to longboarding exclusively and has deeply entwined its own company culture with longboarding culture. 
DB Longboards is the kind of company you might imagine when you think of a longboarding company. The "DB" represents both Dash Beach, WA (the company's original birthplace) and Dashboards, the community-derived term for their first longboards. Their history and come-up are essential to their brand and their reputation; a fact that means they put quality products to market.
Their team is what you'd expect – all professional and passionate longboarders, and well-versed in sports with concrete, surf, and sand playing fields. This experience manifests remarkably in their longboards, which come with professional-grade hardware, standard. This specific setup makes this longboard ideal for downhill cruising at high speed, though its stability and premium hardware allows for more aggressive riding styles as well.
---
13. Magneto Slot Machine Longboard Skateboard
Features:
The notable 40" patent-pending deck design features a prominent slot, which is cut through the entire thickness of the deck. This is done to dramatically increase turning and carving performance.
This proprietary slot runs nearly the entire deck, allowing each side of the deck to flex independently while turning and carving.
Bearings are already upgraded to Slicks ABEC 9 race bearings, for maximum speed.
This longboard's grip tape design is machine cut with 2 grades of coarseness; the outside is rougher, with OS36 tape while the inside is industry-standard grip tape OS80.
High-quality aluminum 7" trucks and 70mm 78A high-rebound urethane wheels complete the hardware package.
There are two reasons to buy the Slot Machine – the incredible value and the five-star customer service that Magneto offers. Read through the reviews on any site, and you will find numerous accounts of people that had their discrepancy handled so well that the customer service alone prompted them to leave feedback. This is aside from the fact that this board offers top-shelf components compared to the cheaper competition.
Magneto invested heavily into this design, with months of R&D and prototype development. The result is the durable longboard deck, slotted, with a bottom layer of the triaxial fiberglass. This reinforcement is what allows the individual deck sections to flex as they do without cracking or breaking. That being said, there is a maximum weight limit of 250 lbs. On this longboard.
---
What is a "drop-down" longboard?
A drop-down longboard is simply one that drops down from the plane running across the top of the longboard's trucks, like this: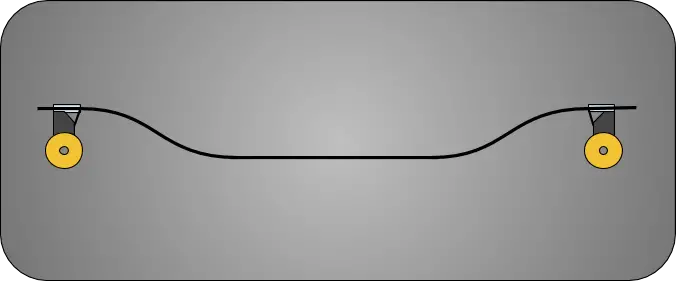 Drop-down longboards are an immensely popular choice for beginner riders, as they offer the most stability and control of all longboard styles. Also, these decks are generally stiffer, as the rises reinforce the deck's structure. This also makes the board more responsive as the energy you put into the board goes right to the trucks and wheels.
The greatest advantage of these boards is allowing new to intermediate riders to develop their technique – without feeling like they're going to faceplant!
So, what is a "drop-through" longboard?
As opposed to the drop-down deck, which is usually top-mounted, the drop-through longboard is one with specially designed trucks that fit through a slot that is cut in the deck.
---
Top mount vs. bottom mount longboards
Drop decks are most commonly found fitted for top-mount hardware, with double-drops sometimes being considered their own type of longboard (Double-drop means a drop deck with drop-through hardware).
Top Mount – The bottom of the deck is mounted directly to the top of the trucks, placing the board higher up relative to the wheels. This provides more leverage as you lean on the board, giving you better turning and agility. Top-mounted hardware is preferred in downhill longboards as they offer more control, even at higher speeds. 
Drop-Through Mount – Drop-through mounted trucks are better for straight-line speed and pushing efficiency. These are favored by commuters and people who enjoy getting up to top speed with only a few pushes. This style of mounting is not preferred for downhill riding, as the lower center of gravity encourages drifting and sliding.
---
Best drop down longboard deck (barebones-no trucks or wheels included)
 After you've spent a little time on your board, you'll have a feel for how it responds to you (and your riding style). 
Once you've reached this point, consider selecting your own hardware. It's the best way to push your board to the next level and get the most out of it. Whether you need to smooth out your ride or coax a little more speed – customized longboard hardware can get you there.

For help deciding on hardware, check out our articles on trucks and wheels
Loaded Boards Vanguard Bamboo Longboard Skateboard Deck
For the best deck-only product available, we had to go with the Loaded Boards Vanguard. This is an amazing value for this deck, even if your budget forces you to buy better hardware down the road. 
An elegant design graces this longboard deck, from the smooth and supine contours to the laser-etched artwork. This is a board that absolutely any longboarder, beginner or pro, would be proud to own and carry. 
With this board and a custom hardware setup, this board could be competitive at a professional level, yet still be perfect for a first-time rider. The fiberglass and bamboo construction makes this board super light – under 3 lbs.! The length depends on the level of flex you need, which Loaded makes easy to figure out with the reference chart (available at the product link).
---
FAQ
What are the best drop-down longboards for beginners?
Picking your first longboard is a big deal. You want a board that accommodates your style of riding and has a design that fits your personality. The preceding product reviews are all examples of longboards so great or unique that they are the perfect choice for your first board! 
Are drop-down longboards good for cruising?
Generally speaking, yes, but the trucks, bearings, and wheels you select can make all the difference in the world. You see, along with all the stability that a drop deck longboard can bring, it also heightens your sensitivity to the riding surface. 
However, drop down longboards are often the choice for cruising and carving, due to their greater stability and lower center of gravity. Carving is another type of riding that is popular with drop decks, as the lowered deck contour gives you more leverage and greater control in deep carves.
Is a drop down longboard a good choice for beginners?
Absolutely! Lowering the feet below the mounting in dropdown longboards can offer the greatest stability and control out of all the different designs. Additionally, beginners come to appreciate the risers pretty quickly, as it gives them somewhere to step when repositioning
Generally speaking, drop-decks are the most well rounded of all longboard styles. Other designs can be better for specific things like longboard dancing or freestyle tricking – but the drop down deck is one of the most popular choices for cruising and all around freeriding.
Can I dance on a drop down longboard?
Honestly, that would depend largely on your skill level, but usually, longboard dancers go with a specially designed dance deck. Remember that the drop deck features a "step" on either end?
As you shift your weight around on the board, you're going to need to step like a ninja to account for it. Also, drop-through trucks present a raised lip that could present challenges to dancing. Dance boards are also usually at least an inch wider than other longboard styles.
A high-performance longboard constructed from a bio-epoxy/basalt composite designed for greater strength and lighter weight – and eco-friendly!
A damp flex deck that can easily accommodate heavier riders while providing a generous platform for longboard dancers.
A deck formed slightly concave, to increase tactile feedback and response when used for freestyle tricks and aggressive riding.
***Loaded Boards complete longboards all come standard with Paris trucks and Orangatang wheels, as these companies have a long-standing relationship***
A similar board with growing appeal is Loaded's newer dance longboard, the Tarab. The most recognizable differences are that the Tarab is slightly shorter and lighter than its predecessor.
If you really want a drop deck to dance with, look up above at the Minority Downhill Maple. Its drop is slight and it boasts a 10" wide top mount platform.
 If you're looking for a more entry-level kind of dance longboard, check out the Volador Spring. They have fresh designs ranging from vintage to avant-garde, a large dancing platform, and an incredibly affordable price!
---
That covers the ins and outs of drop-deck longboards. While some people use drop-deck and drop-through interchangeably, there is a technical difference there worth understanding. We talked about some of the best longboards available on the market right now, as well as a few options that make it easy to try out this attractive sport.
Drop decks are a fundamental design for the longboarding community. The specialized pros might be riding a $400 dance deck now, but it's a safe bet that they've owned a drop deck or drop mount longboard before. That is if they don't already have one as their spare.